Tagungen und Workshops
Tagungen des IWIM
Ein wichtiger Bestandteil der Arbeit des Instituts ist die Durchführung der "Jahreswirtschaftstagung", der Veranstaltungsreihe "Weltwirtschaftliches Colloquium" sowie weiteren wissenschaftlichen Veranstaltungen. Dabei werden aktuelle Fragestellungen der Weltwirtschaft und des internationalen Managements diskutiert.
Die in zweijährigem Rhythmus stattfindende Jahreswirtschaftstagung bietet den Teilnehmern aus dem In- und Ausland ein Forum für den Informations- und Erfahrungsaustausch. In Vorträgen und Workshops werden u. a. auch die Forschungsergebnisse der dem Institut angeschlossenen Wissenschaftler mit dem Fachpublikum diskutiert.
Jahreswirtschaftstagungen:
Konferenzen / Workshops mit Afrikabezug:
Konferenzen mit China- / Ostasienbezug:
NEWS:
Invitations to important Conferences on Economic Development, Global Economic Problems, Decolonization, Political Economy, and Innovation and Technology Policies/Einladung zu wichtigen Konferenzen über Ökonomische Entwicklung, Globale Wirtschaftsprobleme, Dekolonialisierung, Politische Ökonomie und Innovations- und Technologiepolitik
Sudan is since April 2019 on the way to a new government and may also change its failed economic model:
Since two months a women-led opposition movement is fighting for a new – democratic and civilian - government (see on this movement in Sudan: https://www.ozy.com/fast-forward/women-led-protests-are-shaking-up-sudan/93513). Economists in Sudan are now exploring new development paths for the country. Young Sudanese economists, who are organized in the Sudan Research Group (SRG) and who were trained in the Sudan, in the United Kingdom, in Germany and in other European countries are holding a conference in Khartoum on key areas of economic reform (see the SRG Tentative Agenda). The title of the conference is: Towards a New Vision for Inclusive Development in Sudan, 22-24 June 2019. After an Introduction seven (7) clusters are built for presentations and discussions (Macroeconomic Management for Inclusive Development; Bringing the Production Sectors back in; Governance and Institutions; Management of Natural Resources; Sustainable Infrastructure; Social Policy and Public Service Delivery; and The Role of the Private Sector), followed by the final Session on the Way Forward. Karl Wohlmuth is advising the organizers on certain aspects of the programme. He has recently participated at the Sudan Expert Consultation of the Foreign Office in Berlin where the current developments were discussed. In various publications Professor Wohlmuth has developed an alternative framework for economic policies in Sudan.
A leading Development Policy Thinktank - The German Development Institute – discusses on New Middle Classes and Green Transformation in Developing Countries
The German Development Institute/Deutsches Institut für Entwicklungspolitik (DIE) in Bonn has become over the recent years a major global thinktank and organizes important conferences on current development issues.
A workshop on Preferences, attitudes and environmental impact of the new middle classes was held in April 2019 (see the link: https://www.die-gdi.de/veranstaltungen/details/preferences-attitudes-and-environmental-impact-of-the-new-middle-classes/). New middle classes in Ghana, Peru and the Philippines were analysed by using large household surveys. It was investigated how sustainable consumer choices can be induced in developing countries. Professor Wohlmuth has recently contributed to the discussion about African middle classes as a base for entrepreneurship development.
The German Development Institute held in June 2018 a conference on Green Transformation and competitive advantage: Evidence from developing countries. It is interesting to see that developing countries also in Africa are committed more and more to green growth models. Recently, South Africa has introduced a carbon tax to meet the global climate policy targets; the government imposed a tax of $8.34 per ton of CO2 equivalent from June 1, 2019. Electricity prices and as well fuel prices may go up as a consequence. Only 40 out of 200 countries who have signed the Paris Climate Agreement of 2015 have so far decided about carbon taxation (see the link: http://www.thecarbonreport.co.za/the-proposed-south-african-carbon-tax/). The purpose is to keep global temperatures from rising above 1.5 degrees Celsius.
The conference programme (see the preliminary programme 2018 as PDF) has a focus on internalizing environmental costs and on competitive advantages. It is asked: Have the developing countries the financial and institutional capacity to internalize the environmental costs? Will in these countries - as they are mostly still factor-driven - the internalization of the environmental costs undermine their competitive advantages? This is of interest for the researches of the Research Group on African Development Perspectives Bremen. Professor Wohlmuth and his team are working on volume 22 of the African Development Perspectives Yearbook which will consider among others the relevance of Sustainable Development Goals One (1), Seven (7) and Nine (9) for Africa's development. A key aspect is the greening of Africa's industry. A recent study by Professors Reuben A. Alabi and Karl Wohlmuth discusses the cases of waste management in Nigeria and in Germany .There is a potential for greening the economy of Nigeria through more coherent waste management policies which are firmly based on constructive urbanization, infrastructure, industry and agriculture policies. But, the study also emphasizes that Nigeria and also Germany are still far away from a transition to a circular economy model of waste and resources management.


International Working Seminar on Fair Global Supply Chains at the ICDD (International Center for Development and Decent Work), Kassel, Germany
An International Working Seminar was held on the theme Responsibility and Accountability of Supply Chains in March 2019. The Seminar Programme (see the RASC program pdf) emphasizes neglected social, legal and economic aspects of global value chains (human rights, CSR and governance, fairness, trust and power, transparency, social sustainability, working conditions, and social upgrading), An Agenda for Reforms and Actions, various Country Cases (Ghana, Brazil, Eduador, Colombia, Sri Lanka, Germany, and Italy), and exemplary Sector Cases (like food supply chains) are part of the programme. Recently, Professor Wohlmuth has discussed the issues of transparency of commodity supply chains in the Journal of European Economy (Ternopil, Ukraine). He emphasized the necessary reforms – by referring to insights from J. M. Keynes - to make the international commodity markets and the global supply chains more transparent (Links: http://jee.tneu.edu.ua/en/archive-en/2018-en/vol-17-no-4-december-2018-en/ and: http://jee.tneu.edu.ua/en/archive-en/2018-en/1133-journal-of-european-economy-vol-17-number-4-december-2018-pp.html). In various issues of the African Development Perspectives Yearbook, the weaknesses of the global commodity markets were analysed, especially in relation to Africa's development problems and strategies (see the links: https://www.karl-wohlmuth.de/african_development_perspectives_yearbook/ and: http://www.iwim.uni-bremen.de/africa/africanyearbook.htm).
The Unfinished Task of Decolonization – New Approaches and Ways of Thinking
In a seminar Unvollendete Dekolonisierung, Dimensionen deutscher Verantwortung in March 2019 leading experts on Africa from Hamburg and Bremen emphasized the responsibility of Germany in regard of its past as a colonial power (see: Flyer Unvollendete Dekolonisierung). Emphasis is on the role of artefacts from German colonies which were collected in colonial times for museums in Hamburg and elsewhere in Germany. It is a task of decolonization to discuss these issues with the experts in the former colonies who want to work out their own strategies of decolonization. The gradual transformation of the museums in Hamburg which are hosting such artefacts is described. The colonial heritage of Germany is discussed with regard of Namibia and Cameroon. Professor Zimmerer from the Forschungsstelle "Hamburgs (Post-) Koloniales Erbe" is heading the research group in Hamburg which is working on Hamburg's colonial heritage. Professor Hans-Heinrich Bass from the University of Applied Sciences in Bremen emphasized during the seminar the type of economic relations persisting between Africa and Europe since colonial times. The Post-Cotonou negotiations may be a further chance to renew the relations between Africa and Europe (Link: https://info.brot-fuer-die-welt.de/blog/post-cotonou-chance-eine-neue-partnerschaft). It is argued now in various circles that decolonization has to be accomplished also in terms of trade, investment and development cooperation agreements between Africa and Europe.
There is also since long time a discussion in Bremen about its role in the colonial period, and it led to various actions at the political level, in the civil society, in museums and culture institutions, and in the city where symbols of colonialism still matter. Also, there is a new awareness in the work at museums and at universities in Bremen, but very intensive is also the discussion on decolonization in political circles in Bremen. However, Bremen is not only working on its colonial past, as it is also active in regard of the situation of the Western Sahara/the DARS (Demokratische Arabische Republik Sahara). DARS is considered widely as the last colony in Africa. So, Bremen is on the way to work on its own colonial history but is also considering the fate of the many refugees from the Western Sahara living under miserable conditions in Algeria and in the small free part of the DARS. NGOs in Bremen but also official political circles are discussing the still unsolved future of the area which was occupied after the Spanish colonial period by Morocco (see on the work of such NGOs for the people of the Western Sahara: https://de-de.facebook.com/FreieWestsahara/ and: https://wsrw.org/lDE). So, there is a double role of recognizing the colonial heritage in Bremen – first, accepting the responsibility of having a colonial past with impacts on our life still today and second, acting on the commitment to support a sovereign Western Sahara ruled by its people, being still now the last colony in Africa.
Karl Marx, Marxism and the Global South – International Symposium in Bremen on 4-5 May, 2018
On 5 May, 2018 the 200th birthday of Karl Marx was commemorated with a variety of events and exhibitions throughout the world. A key event was the conference in Bremen "Karl Marx, Marxism, and the Global South" (see for information: Beschreibung Marx, Marxism and Global South and: Marx Symposium preliminary programme). The conference organizers describe the purpose of the conference with the following words: "The symposium aims at critically acknowledging, reviewing and discussing Marx's ideas, influences and legacies from a variety of perspectives of the Global South, focusing on postcolonial interpretations and adaptations as well as on circulations of utopian ideas. During the 20th century and the liberation movements in the Global South, often memorized traditional-societal and Marxist ideas (on modernization) were interwoven into utopian visions of the future (e.g. in the writings of José Mariátegui/Peru, Kwame Nkrumah/Ghana or Ali Schariati/Iran). Marxist thoughts had and still have an effect on visions of a fairer world in the Global South and beyond. The question how more just societies and sustainable modes of production could be designed, is not only a historical and utopian but also a question of contemporary relevance, deserving closer attention in the humanities."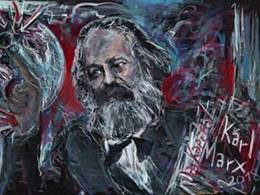 Source: https://mlecture.uni-bremen.de/ml/index.php?option=com_content&view=article&id=373
The conference, the mobile lectures and the publications following the event are of interest to economists and social scientists who are working on development issues and on international relations.
The following questions have guided the conference work:
How did Marx understand the historical-societal developments in Asia, Africa and the Americas?
How did he interpret anti-colonial movements?
What importance within capitalist production was assigned to the Global South in various interpretations of Marxist ideas?
On what kind of understanding of nature was his interpretation of the development of productive forces based on?
How were and are Karl Marx's ideas received and utilized in the Global South?
What are possible utopian potentials of Karl Marx's work in today's globalized world with nations, labour forces, capital, resources and goods ordered in political and economic matrixes of power?
All these questions are of relevance when we look at the current challenges, opportunities, contradictions and conflicts prevailing in the Global South.
See on further information about the conference, the mobile lectures, and the conference results: https://www.hsozkult.de/event/id/termine-36553 and: https://mlecture.uni-bremen.de/ml/index.php?option=com_content&view=article&id=373 and: https://marxandtheglobalsouth.wordpress.com/ and: https://www.woc.uni-bremen.de/event/inputs-international-symposium-karl-marx-marxism-and-the-global-south-university-of-bremen-city-university-of-applied-sciences/.
A valuable introduction to the theme is presented by Lucia Pradella, Marx and the Global South: Connecting History and Value Theory, in: Sociology 2017, Vol. 51(1) 146–16; see: https://journals.sagepub.com/doi/full/10.1177/0038038516661267
ITAFORUM 2019 des BMBF (Bundesministerium für Bildung und Forschung) am 14. und 15. Februar 2019 in Berlin: Die Konferenz zur Innovations- und Technikanalyse
Alle Projektteilnehmer und Gutachter des Programms werden regelmäßig zu den Jahrestreffen in Berlin eingeladen. In diesem Rahmen werden neue fachübergreifende Themen und zukünftige Entwicklungen von gesellschaftlicher Relevanz auf ihre Chancen und Risiken hin untersucht (vgl. das Programm des ITAFORUM 2019). Zum Programm für 2019 heißt es in der Einladung: "Auf dem ITAFORUM 2019 werden die Projekte des neuen Förderzyklus vorgestellt, die sich mit Themen wie künstliche Intelligenz und virtuelle Realitäten, digitale Plattformsysteme, kulturelle Diversität, Partizipationsfähigkeit sowie Governance von Innovationsprozessen befassen." Nach einer Einführung in das neue Förderprogramm wurden sechs (6) Themenfelder diskutiert: Künstliche Intelligenz; Digitale Plattformsysteme; Kulturelle Diversität; Partizipationsfähigkeit; Governance von Innovationsprozessen; und das Themenfeld "Themenoffen"; im Anschluss daran folgten Zusammenfassungen der Workshop-Arbeit.
Professor Karl Wohlmuth war als Gutachter an dem Programm beteiligt und arbeitet seit vielen Jahren an Innovationsprozessen in Emerging Economies. In zwei Ausgaben des African Development Perspectives Yearbook wurde das Thema "Science, Technology and Innovation Policies for Inclusive Growth in Africa" in umfassenden Analysen und Länderstudien abgehandelt (Band 20 für 2018 und Band 21 für 2019). Der Bremer Professor hat auch an mehreren Studien der UNIDO zu Technologie- und Innnovationspolitiken in Afrika mitgewirkt.
26.10.2018
Nach oben
12.02.2018
Nach oben
12.02.2018
Nach oben
12.02.2018
Nach oben
14.08.2017
Nach oben
16.12.2016
Nach oben
16.12.2016
Nach oben
14.12.2016
Nach oben
26.03.2016
Nach oben
06.07.2016
Nach oben